Couscous with Grilled Vegetables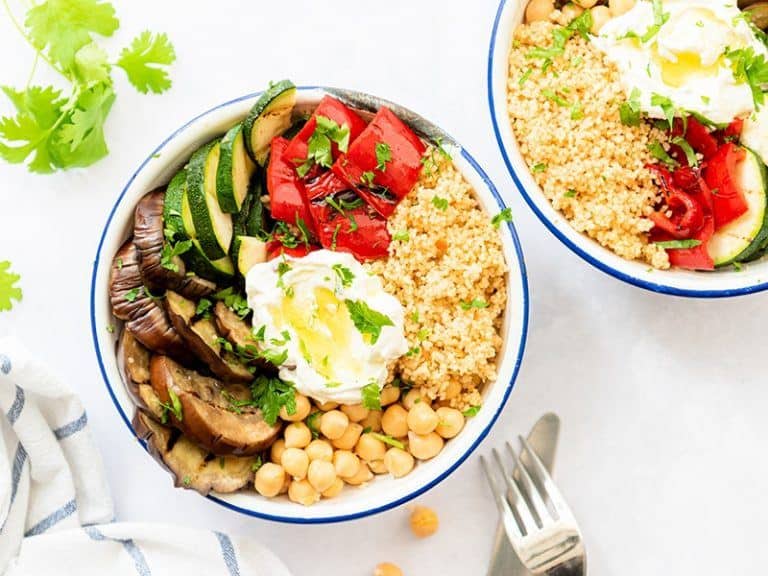 1 Aubergine
1 Small Courgette 
1 Red bell pepper
1 Can of chickpeas (each 200 grams)
100 g Couscous
3 Tsp Spice Blend  – Couscous salad
150 ml Water
2 tbsp Hummus
Olive oil
Fresh coriander, for garnish
Slice the aubergine and courgette and dice the bell pepper. Drain the chickpeas, rinse under the tap and drain in a colander.
Heat the olive oil in a grill pan and grill the vegetables on both sides until they have nice grill marks.
Put the couscous together with the boiled water in a large bowl and add the Spice Blend – Couscous Salad . Keep stirring with a fork until the couscous is cooked.
Divide the couscous, chickpeas and vegetables between two bowls.
Spoon a spoonful of hummus in the center and garnish with fresh coriander. 
Variation tip:
You can vary a lot with vegetables in this recipe. Do you have leftovers of other vegetables, such as green asparagus, pumpkin or something else in the fridge? Cut them into cubes or slices, grill them and add them to the salad.
Instead of hummus you can also add tzatziki or greek yogurt to this couscous salad, also very tasty!