Grilled Sweet Potato Salad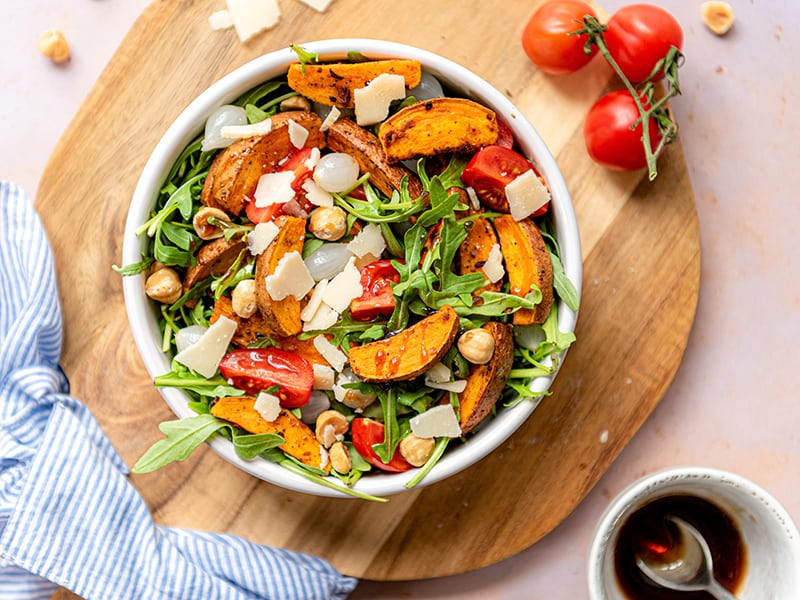 400 g Sweet potato
100 g Cherry tomatoes
75 g Rocket
25 g Hazelnuts (unsalted)
3 Tbsp pearl onions –
1 Tbsp balsamic vinegar
1 Tbsp honey
3 Tsp Spice Blend – Sweet potato salad
Sorry, we couldn't find any posts. Please try a different search.
Preheat the oven to 200 degrees.
Rinse the sweet potatoes under the tap and cut them into small wedges.
Divide the Spice Blend – Sweet potato salad together with the olive oil over the sweet potato wedges.
Divide the wedges over a baking tray and bake them for about 20 minutes.
In the meantime, make the dressing for the salad. To do this, mix the honey with the balsamic vinegar.
Halve the cherry tomatoes. Then prepare 2 plates with the rocket, pearl onions, tomatoes and hazelnuts.
When it comes out of the oven, divide the sweet potato over it, drizzle with some dressing to taste and garnish with the Parmesan cheese flakes.
Variation tip:
Feta, grilled vegetables or lentils.