Vegetarian Chilli with Sweet Potato and Avocado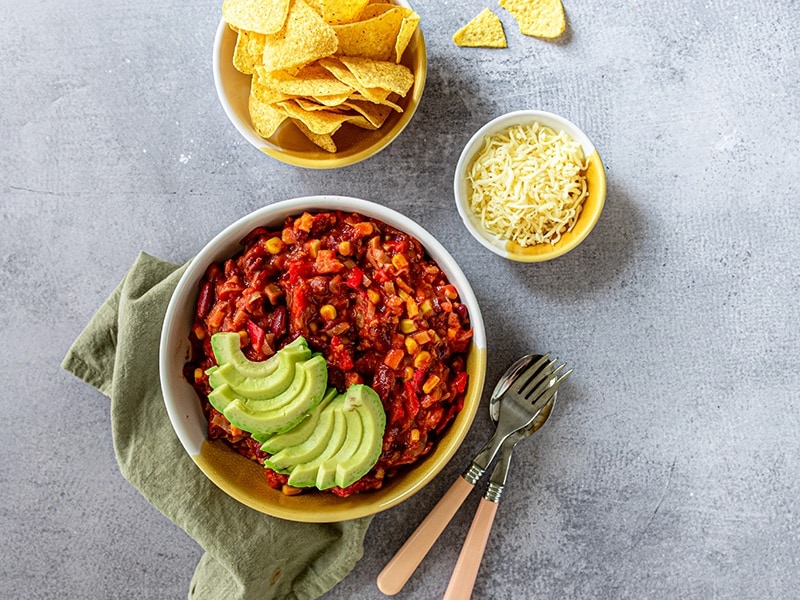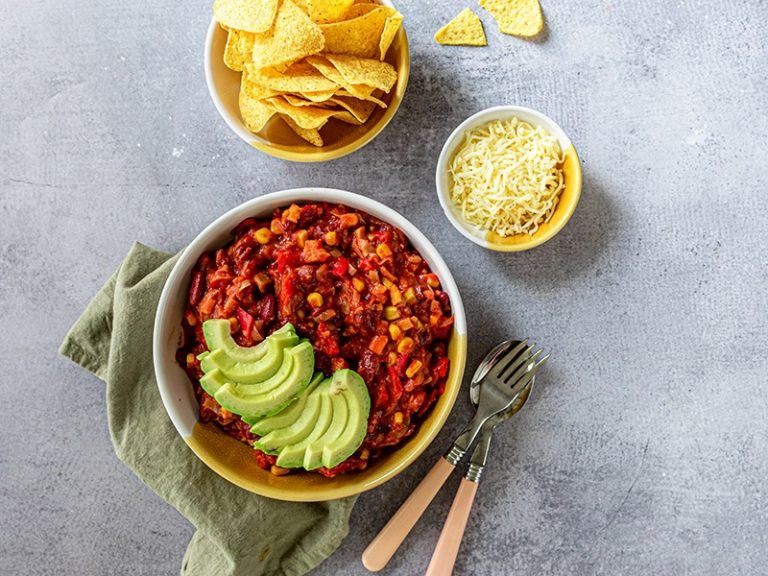 For 2 people:
2 Sweet potatoes
1 Onion
125 g Mushrooms
150 g Sweet pointed pepper
100 g Leek
2 Tbsp (olive) oil
4 Tsp Spice Blend – Vegan Chilli 
500 g Sieved tomatoes
1 Tin of kidney beans à 400 g
1 Can of corn of 150 g
1 Avocado
100 g Grated cheese
Preheat the oven to 220 ° C. Wash the sweet potato and place it in an oiled oven dish. Roast the sweet potato in the preheated oven for about 30 minutes.
In the meantime, chop the onion, cut the mushrooms and pointed pepper into cubes and cut the leek into rings. Drain the kidney beans and corn.
Heat a casserole with the (olive) oil and fry the onion in it until it looks translucent. Fry the mushrooms and pepper for 5 minutes on high heat. Add the leek and fry for 3 minutes. Add the Spice Blend  – Vegan Chilli and stir well. Then add the sieved tomatoes, drained kidney beans and corn and simmer for 5 minutes on low heat.
Cut the avocado into slices in the meantime. Peel the baked sweet potato and cut into cubes. Combine all ingredients. Season with salt and pepper to taste.
Serve the chilli with the avocado and grated cheese.
Variation tip:
Serve the chili with brown rice or tortilla chips. Dip the tortilla chips in the chili and enjoy!