Cauliflower Pizza with Shoarma
Try this delicious cauliflower pizza crust filled with shoarma, mozzarella, onion, bell pepper and fresh iceberg lettuce.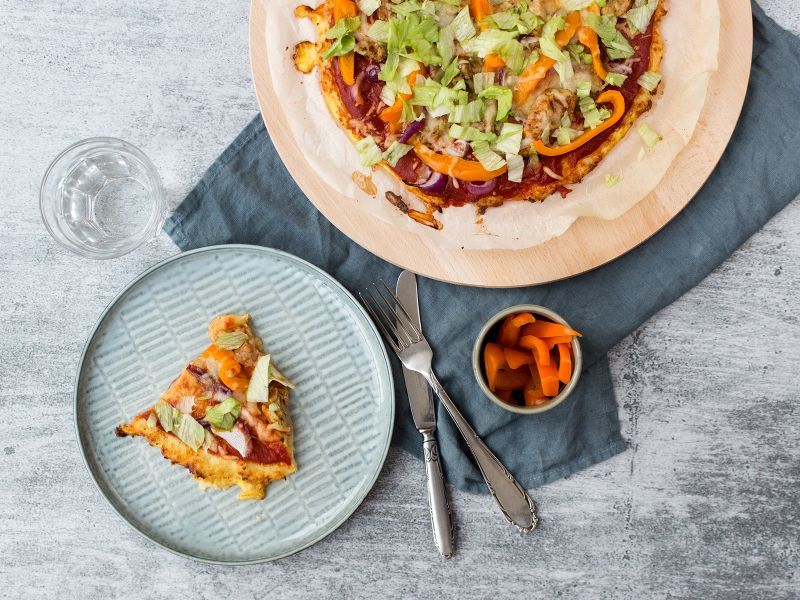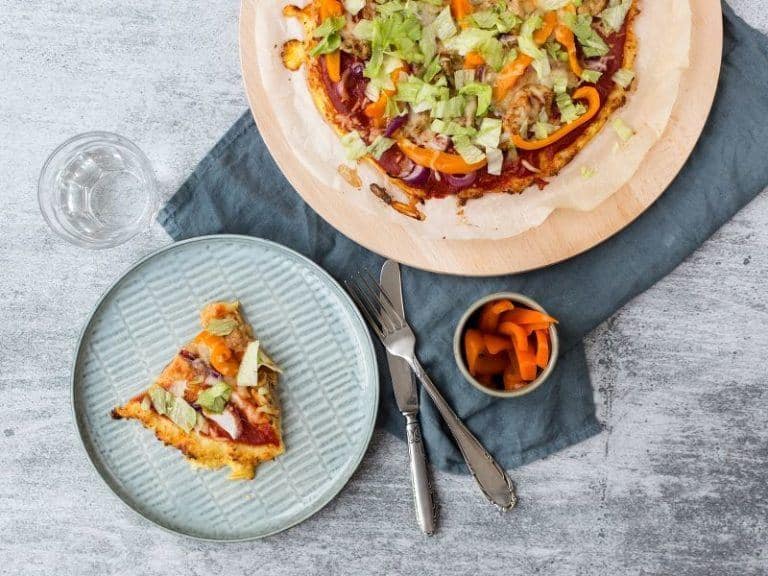 For the pizza base:
400 g Cauliflower
300 g Grated mozzarella
2 Eggs
2 Tsp Salt
For the topping:
400 g Pork or Chicken strips
1 Orange bell pepper
1 Red onion
25 g Iceberg lettuce
75 g Grated mozzarella
4 Tbsp pizza sauce or sifted tomatoes
30g Spice Mix for Shoarma
2 Tbsp (olive) oil
For the pizza base:
Preheat the oven to 225 degrees and heat the cauliflower rice in the microwave for 5 minutes.
In a bowl, mix the heated cauliflower rice with the grated mozzarella cheese, eggs and salt. Knead this, place on a baking tray covered with parchment paper and press it flat into a round shape about 2 cm thick.
Pre-bake the dough in the preheated oven for 10 minutes.
For the filling:
In the meantime, cut the orange bell pepper into thin strips and the onion into thin rings.
Heat a pan with the (olive) oil. Add the pork or chicken strips and Spice Mix for Shoarma and fry the meat all around.
For the pizza:
Remove the pizza base from the oven, set the temperature to 175 degrees and brush the pizza with the pizza sauce or sieved tomatoes. Divide the baked meat, the bell pepper and the red onion. Garnish with the grated mozzarella. Bake the cauliflower pizza with shoarma for about 8 to 10 minutes.
Remove the cauliflower pizza with shoarma from the oven and garnish with the iceberg lettuce. Serve immediately.
Optional dipping sauce: Yoghurt & Garlic Sauce