Cream Cheese, Stilton, Mushroom and Spinach Cannelloni
Using Verstegen products not only means you are using the finest herbs and spices, which in turn means you get the best tasting products, it also means that you can adapt very easily to the ever increasing flexitarian diet of your more conscious customers. This recipe demonstrates this adaptability, with a few extra ingredients you have the tools to make absolutely delicious vegetarian dishes.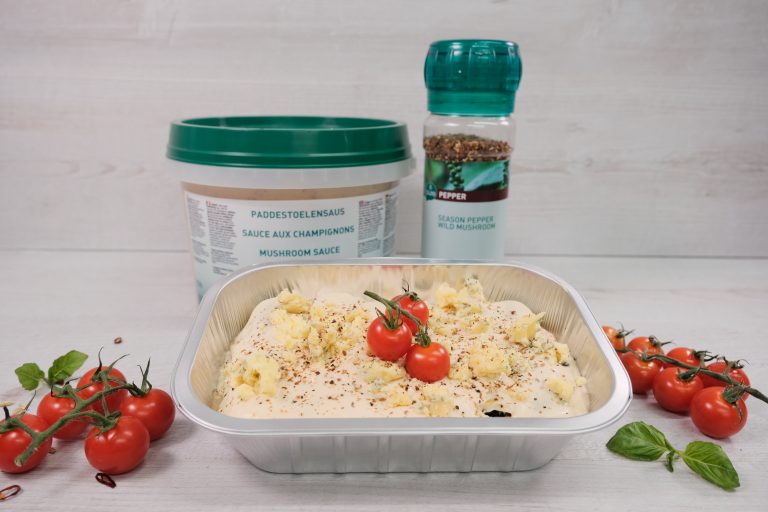 1.4kg of Cream cheese
375g frozen spinach
1kg Mushroom sauce
750g Gratin sauce
150g Crumbled stilton
15g Season Pepper Wild Mushroom PURE
Garnishing and toppings
Sliced tomato
Grated mozzarella
Schnitzelmix Farmhouse 
Mix together the cream cheese, drained spinach, stilton and Season Pepper Wild Mushroom and spoon into a piping bag.
Pipe the mix into 6 cannelloni tubes until they are full.
Spoon 200g of Mushroom Sauce into the base of a tin foil tray and spread evenly.
Place the stuffed cannelloni tubes onto the bed of sauce in the tray.
Cover the cannelloni evenly with 150g of Gratin sauce.
Garnishing and toppings
Layer finely sliced tomato across the product, coat with grated mozzarella cheese and Schnitzelmix Farmhouse.
Cook in a pre-heated oven at 150 degrees for 40 minutes.