Durum Wraps with Paprika Hummus, Chicken and Avocado
Tasty wraps with a Middle Eastern touch, filled with a hummus of grilled bell pepper, seasoned chicken breast strips and avocado.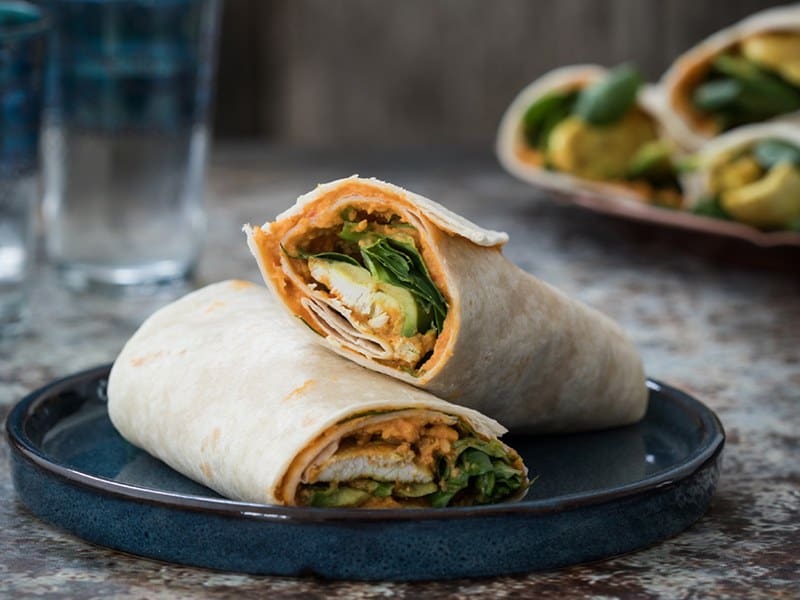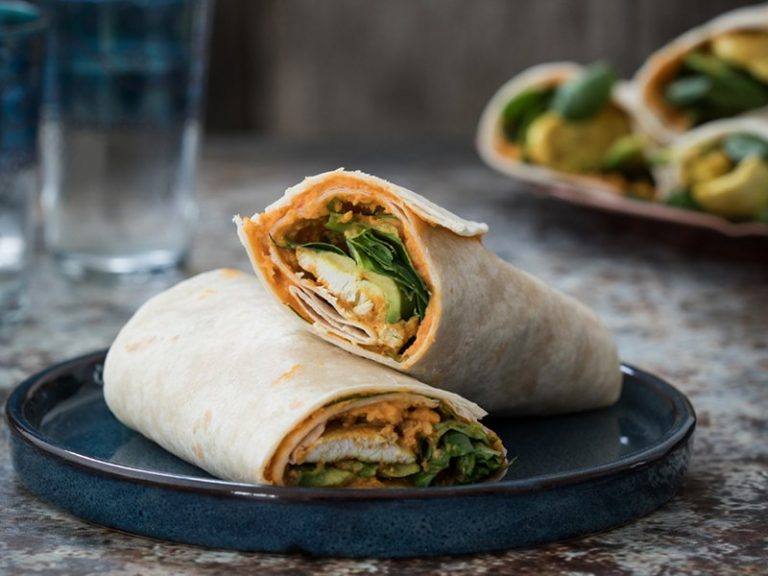 For the durum wraps:
4 Durum tortillas
450 g Chicken fillets (approx. 3 pieces)
1 Avocado
30 g Lettuce
Ras El Hanout, to taste
20 g Butter
Salt, to taste
For the paprika hummus:
1 Canned chickpeas à 400 g (± 250 g drained)
2 Drained grilled red peppers (pot)
2 Tbsp tahini sesame paste
1 Tsp Harissa
Salt, to taste
Drain the chickpeas and grilled red peppers and place in the bowl of the food processor. Add the Ras El Hanout to taste, the tahini paste and salt. Puree until smooth.
Cut the chicken fillets into thin long strips. Season the chicken strips with the Harissa and salt to taste. Heat the butter in the pan and fry the chicken fillet strips all around until brown and cooked.
Meanwhile, peel the avocado, pit it and cut into thin slices.
Heat the durum tortillas according to the instructions on the package. Spread the wraps with about 2 tablespoons paprika hummus. Divide the lettuce, avocado strips and fried chicken breast strips over the center of the wrap. Roll up the durum wraps and serve immediately.