Fresh Spring Rolls with Hoisin Satay Sauce
Delicious fresh spring rolls filled with rice vermicelli, cucumber, carrot, bean sprouts, spring onion and avocado. Serve the spring rolls with a hoisin satay sauce. With this recipe you make 4 fresh spring rolls. Also cut them in half, so you have 8 halves to enjoy.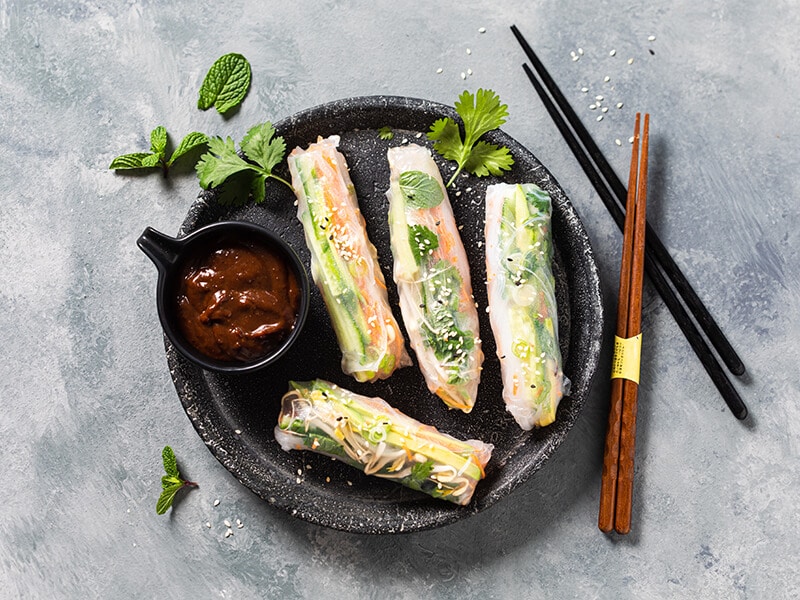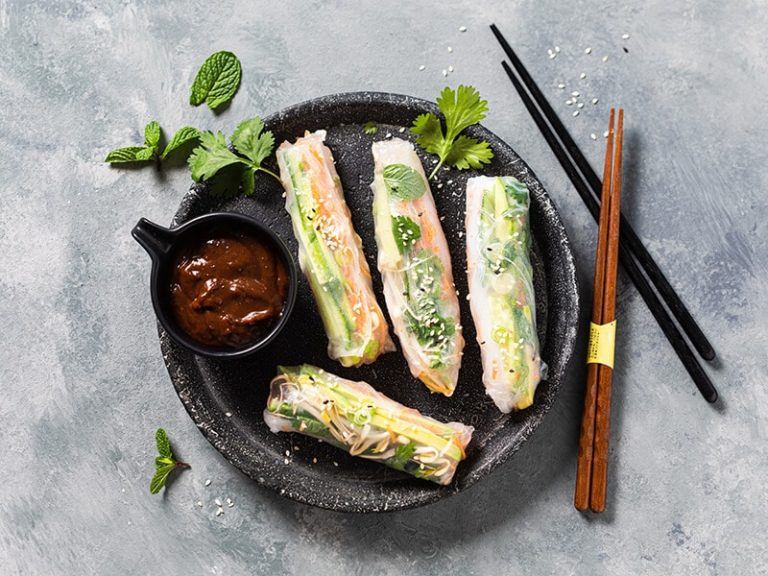 Rice Papers
1 Tbsp sesame oil
0.5 Cucumber
1 Avocado
3 Spring onions
8 Sheets of rice paper
50g Grated carrot
50g Bean sprouts
3 Sprigs of fresh coriander
4 Sprigs of fresh mint
50g Hoisin sauce
75g Satay sauce
1 Tbsp Sesame seeds
Cook the rice vermicelli until tender, rinse with cold water and mix with the sesame oil.
Cut the cucumber and avocado into thin strips and cut the spring onion into small rings.
Take a bowl the size of the rice sheets and fill with a layer of hot water. Place a rice sheet in it, let it soften for 10 to 15 seconds and place on a plate or board.
Place a handful of vermicelli, avocado, carrot, cucumber, bean sprouts and spring onion in the middle of the rice sheet. Sprinkle with fresh coriander and/or fresh mint. Make sure that there is 2 cm free on both sides of the rice sheet. Fold the sides in and roll up into a roll from below. Repeat with all rice sheets.
Make a sauce of the Hoisin sauce and the Satay Sauce . Garnish the fresh spring rolls with Sesame Seeds and serve.
Variation tip:
Try with salmon & Sweet Chilli sauce