Goat Cheese Spinach Spring Rolls with Orange Dip
These goat cheese spinach spring rolls with orange dip are delicious to serve as an appetiser. This recipe is for 8 spring rolls.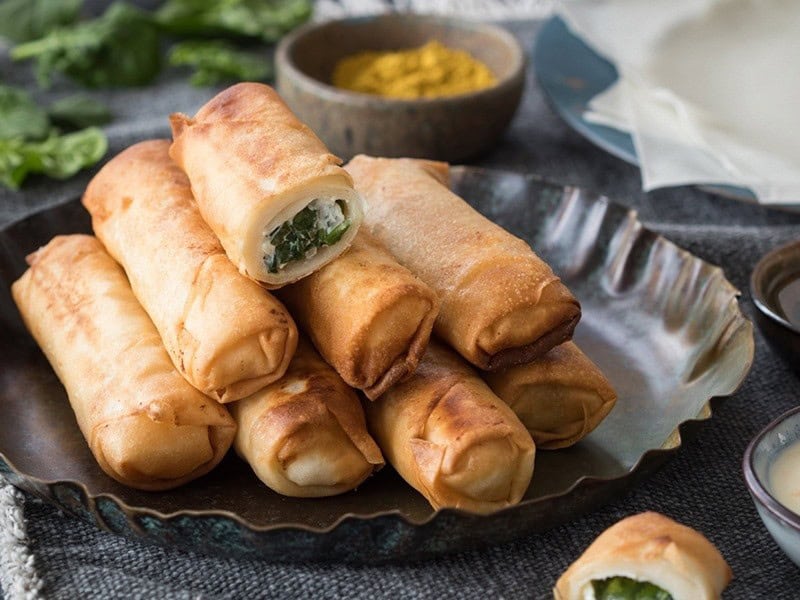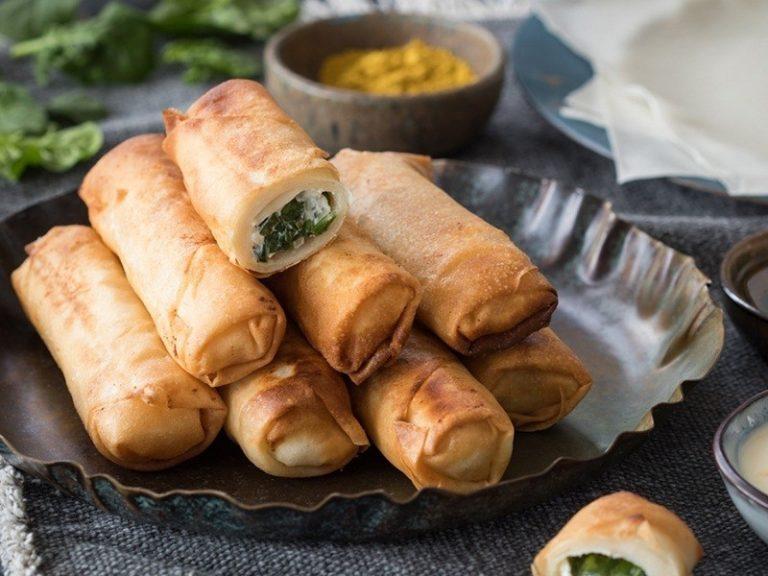 For the spring rolls:
16 Spring roll sheets (frozen)
200 g Soft goat cheese
40 g Washed spinach
1 Shallot
2 Tsp Harissa
2 Tbsp olive oil
4 Tbsp flour
Salt and pepper, to taste
Sunflower oil, for baking
For the orange dip:
½ Orange
200 g Full-fat yogurt
2 Tbsp honey
Dried mint
Remove the spring roll sheets from the freezer and thaw. In a small bowl, mix 4 tbsp water with 1 tbsp flour and let it stand.
Grate the orange and squeeze the juice. Mix this in a bowl with the full-fat yogurt honey & mint. Cover and store in the refrigerator.
Chop the shallot very finely. In a bowl, combine the goat cheese, spinach, chopped shallot, Harissa, and olive oil. Add salt and pepper to taste. Make 8 equal rolls of the goat cheese-spinach mixture.
Place a spring roll face down. Place a second spring roll as a square on top. Place 1 goat cheese spinach roll horizontally on the sheet. Fold the bottom point over the roll, pull tight and push out any air bubbles.
Brush the edges with a little flour mixture with a brush. Fold the sides inwards and roll up the spring roll. Repeat until all goat cheese spinach spring rolls are made.
Bake the spring rolls in a skillet with a bottom of hot sunflower oil for about 5 minutes until golden brown. Serve immediately, with the orange dip.