Jamaican Spiced Chicken with Oven-baked Vegetables
A delicious oven dish full of Jamaican spiced chicken and vegetables, served with quinoa.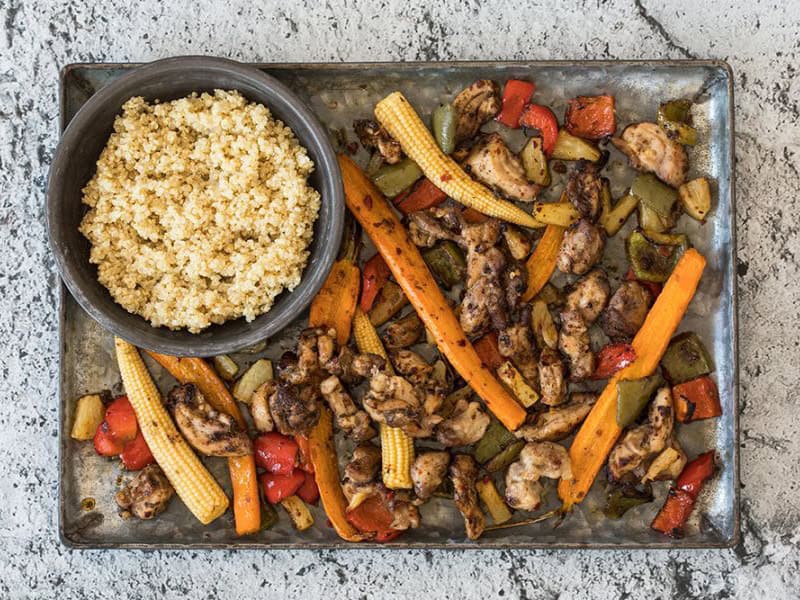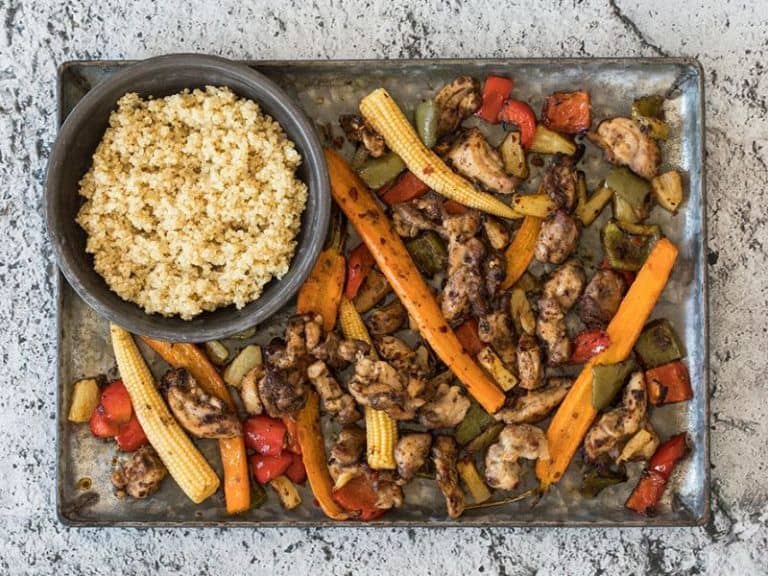 500 g Chicken thighs
200 g Carrots
1 Green pepper
1 Red pepper
300 g Quinoa
200 g Baby corn (canned or fresh)
1 Tin pineapple chunks (± 230 g)
2 Tbsp Jamaican Jerk Spices – PURE
2 Tbsp honey
5 Tbsp olive oil
Salt, to taste
Preheat the oven to 180 degrees. Drain the pineapple chunks. Cut the chicken thighs into thick strips. In a bowl, mix the chicken thigh strips, the drained pineapple chunks, 1 tbsp Jamaican Jerk Spices – PURE , 2 tbsp olive oil and honey. Add salt to taste.
Meanwhile, peel the carrots and cut it into small pieces. Cut the peppers into large square pieces. In a bowl, mix the carrots, peppers and baby corn with 1 tbsp. Jamaican Jerk Spices – PURE. Drizzle with 3 tbsp olive oil.
Divide the marinated chicken thigh strips, pineapple chunks and seasoned vegetables over a baking tray. Bake for 20-25 minutes in a preheated oven.
Meanwhile, cook the quinoa according to the instructions on the package. Divide the cooked quinoa among the plates and serve the grilled chicken and vegetables on top of the quinoa.