Mini Puff Pastry Snacks with Chicken, Bell Pepper and Chestnut Mushrooms
These richly filled puff pastry snacks with chicken, bell pepper and chestnut mushrooms are deliciously spicy. Ideal for a party or for a drink. This recipe makes about 10 puff pastry snacks.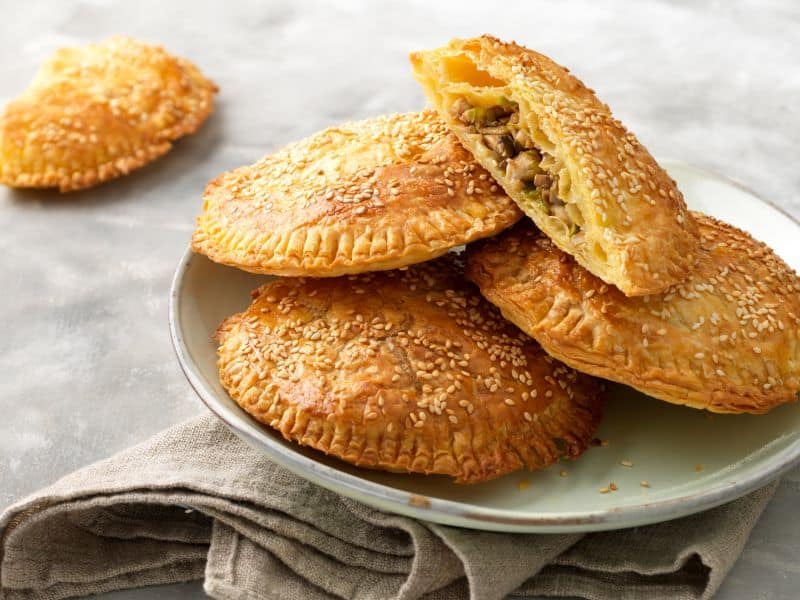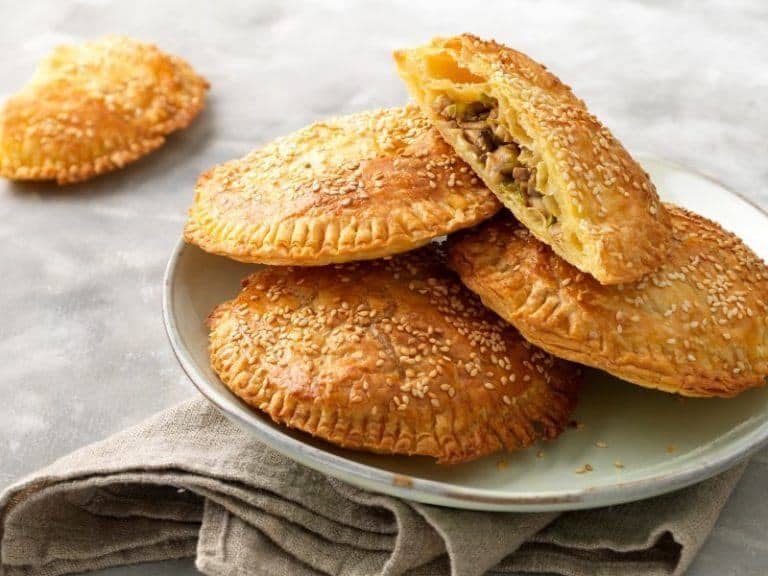 20 Slices of puff pastry (frozen)
350 g Chicken thigh fillet
1 Green pepper
6 Chestnut mushrooms (approx. 100 g)
1 Egg
½ Onion
2 Cloves of garlic
1 Tbsp Mix for Spicy Chicken
2 Tsp Sesame seeds
25 g Butter
Salt , to taste
Preheat the oven to 200 degrees. Remove the puff pastry slices from the freezer and allow to thaw. Finely chop the onion, garlic, bell pepper and chestnut mushrooms. Cut the chicken thigh fillet into small cubes.
Heat the butter in the pan. Add the onion, garlic, bell pepper, chestnut mushrooms, cubes of chicken thigh fillet and Mix for Chicken Spicy. Fry the chicken until light brown. Add salt to taste if necessary. Let it cool down.
Cut the corners of the 20 slices of puff pastry with a knife, so that round slices are formed. Tip: Do this, for example, with an upturned bowl, as in the video. Place 10 slices of puff pastry on a baking tray covered with parchment paper (if necessary, do this in two parts in a small oven). Prick a few holes in each slice with a fork. Divide the cooled chicken filling over the 10 sheets of puff pastry. Brush the edges with cold water.
Place a slice of puff pastry on each filling. Press the edges shut with a fork. Beat 1 egg and brush the puff pastry bites with a brush with the beaten egg. Sprinkle with the Sesame seeds for garnish. Bake in a preheated oven for about 15 to 20 minutes.