Spicy Beef and Tomato Cannelloni
We cranked up the heat in this one by using Verstegen's Sambal chilli paste, and on the base…chimichurri sauce. Flavours that work and most importantly sell.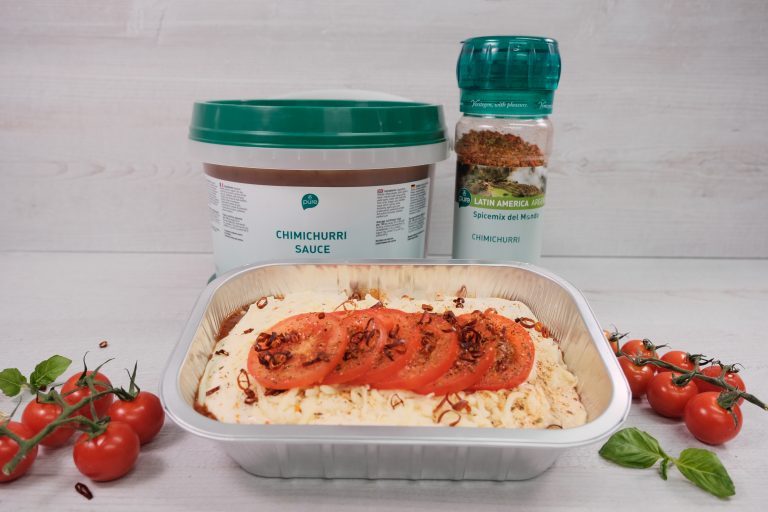 Ingredients (5 x foil trays)
30 x Cannelloni tubes
1kg Minced beef
50g Chilli paste (sambal oelek)
50g Hamburger mix complete PURE
250g Grated cheddar cheese
1kg Chimichurri Sauce PURE
750g Gratin Sauce
Garnishing and toppings
Three cheese topping (parmesan, mozzarella slices and grated cheddar)
Decoration Blend France 
3 x Miniature chillies
Mix together the minced beef, Hamburger mix complete, grated cheddar and Chilli Paste.
Stuff the mix into 6 cannelloni tubes (this can be rolled out and stuffed, piped or put through a sausage filler).
Spoon 200g of Chimichurri Sauce into the base of a tin foil tray and spread evenly.
Place the stuffed cannelloni tubes onto the bed of sauce in the tray.
Cover the cannelloni evenly with 150g of Gratin sauce.
Garnishing and toppings
Create a 3-cheese topping by covering the dish with mozzarella slices, grated cheddar and parmesan. Garnish with Decoration Blend France and 3 miniature red chillies.
Cook in a pre-heated oven at 150 degrees for 40 minutes.