Grilled Chicken Satay Skewers
Delicious chicken satay skewers with ready-made satay sauce. This recipe is for 8 skewers.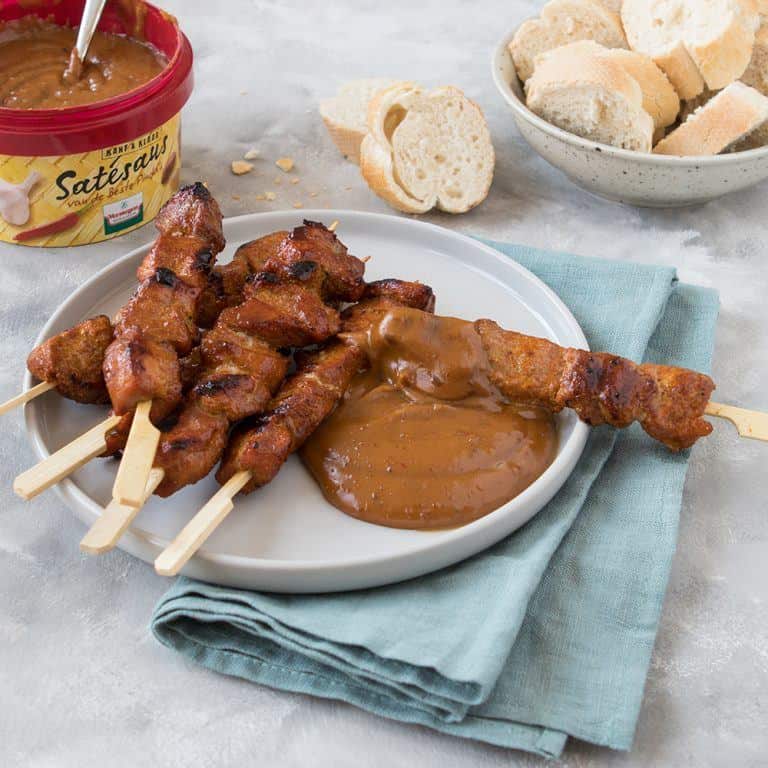 500 g Chicken
1 Sachet of Spice mix for Satay or 25g from the tub
1 Dessert Spoon of Satay Sauce Ready-to-use per skewer
Dice the chicken into chunks.
Season the chicken chunks all around with the Spice Mix for Satay. Leave to marinate for about 15 minutes.
Pre heat the oven (or barbecue!). Thread the marinated chicken on the skewers. Grill the satay in approximately 6 to 8 minutes until golden brown and cooked.
Meanwhile, heat the Satay Sauce Ready-to-use in the microwave or saucepan, according to the instructions on the package. Pour over the chicken skewers (approximately 1 dessert spoon per skewer) Delicious on their own, with rice or chips.
Tip:
If you prefer a thinner consistency, water can be stirred in whilst heating on the hob, or stirred in before heating in the microwave.
Optional extras:
Roasted & spiced coconut with peanuts (Seroendeng)
Prawn crackers
Crispy onions (sprinkled on top!)
Salad Atjar tjampoer