Crispy Chicken Wraps with Bell Pepper and Cucumber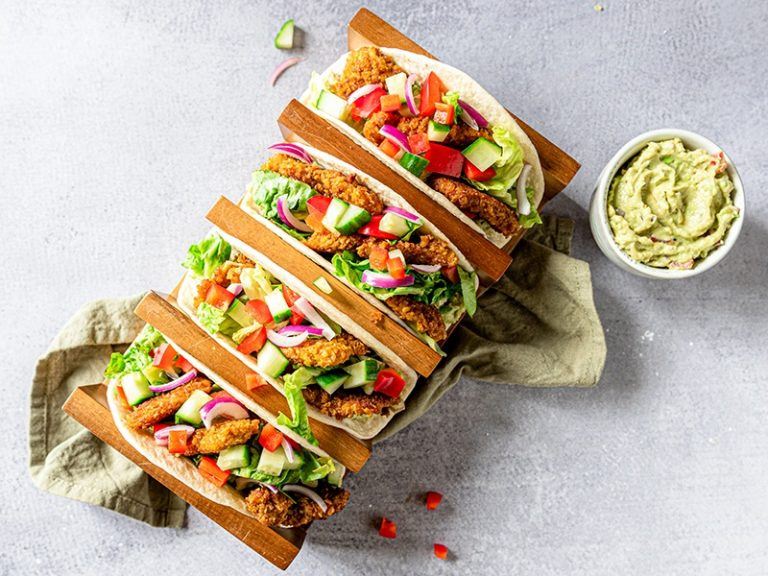 400 g Chicken (thigh) fillet
4 Small tortilla wraps
2 Small heads of romaine lettuce
1 Red pepper
½ Cucumber
1 Red onion
40 g Mix for Crispy Chicken – Cajun Or Curry
Plenty of oil, for frying
For the guacamole :
2 Avocados
1 Tomato
¼ Red onion
½ Lime
1 Tbsp sour cream
2 Tsp Parsley
½ Tsp Chilli flakes
Salt and pepper, to taste
Start making the guacamole: finely chop the red onion. Deseed and mash the avocados. In a bowl, mix the avocado with the red onion, lime juice, sour cream and parsley . Add pepper and / or salt to taste.
Cut the chicken (thigh) fillet into equal strips and place in a bowl. Divide the Mix for Chicken Crispy – Cajun or Curry evenly over the chicken strips until completely covered.
Fry the chicken in a generous amount of oil for 8 to 10 minutes on high heat until golden brown and cooked. Turn frequently so that the chicken does not burn.
Meanwhile, wash the lettuce and remove the lettuce leaves from the stump. Dice the lettuce, bell pepper, cucumber and red onion.
Heat the tortilla wraps briefly in a frying pan. Spread the wraps with the guacamole to taste. Take the small wrap in your hand and divide the lettuce, bell pepper, cucumber and red onion over the wrap. Serve immediately.
Add fried onions, tomato or grated cheddar cheese to the wraps. Optional extras, Guilt free Sweet Chilli.